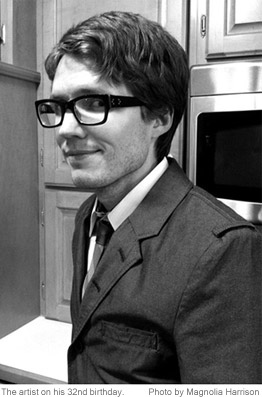 A True Story
Once, when JJ was in fifth grade he got to spend a whole day bowling. The longer he bowled, the more his thumb began to swell up until one fateful turn when his thumb got stuck in the ball! The ball flew down the lane taking little JJ along with it, and as the ball hit the ground the bones in his thumb shattered into a million pieces. It took months for his hand to heal, but something magical happened. After his cast came off, JJ could somehow draw anything he imagined!
Today, JJ lives in the snow-capped mountains of Utah with his wife, their two children, and two dogs. While he still uses this ability to make silly drawings of robots and monsters and ninjas, he never ever bowled again.
The Work
JJ is an illustrator of picture books, comics, and prints. He graduated summa cum laude from Utah Valley University with a bachelor's degree in Multimedia Communications. Despite being terrible, somehow his work has  been featured in rad galleries like Nucleus, Mondo Gallery, Bottleneck, and Hero Complex. He's also gotten to work with amazing companies like Mondo, Cartoon Network, Random House, Little Brown Books for Young Readers, BOOM! Studios, Disney, and NBC.