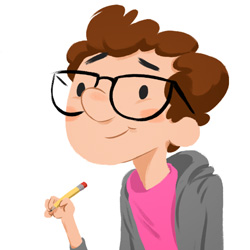 A True Story
Once, when JJ was in fifth grade he got to spend a whole day at the town bowling alley. The longer he bowled, the more his thumb began to swell up until one fateful turn when his thumb got stuck in the ball! The bowling ball flew down the lane taking little JJ along with it. As the ball struck the ground with his thumb still inside it, the bones in JJ's thumb shattered into a million pieces! It took many months for his hand to heal, but something magical happened. After his cast came off, JJ could draw anything he imagined!
While JJ still uses his ability to make silly drawings of robots and monsters and ninjas today, he never ever bowled again.
The Work
JJ is an illustrator of picture books, comics, and posters and member of the Society of Illustrators. He graduated summa cum laude from Utah Valley University with a bachelor's degree in Multimedia Communications. His work is featured in some of the world's most popular art galleries and he enjoys the privilege of working with entertainment's top publishing companies.
Selected Clients

Mondo


Penguin Random House


Hachette


Cartoon Network


Disney


Nickelodeon


BOOM! Studios


Insight Editions


Marvel

Galleries

Mondo Gallery


Gallery Nucleus


Bottleneck Gallery


Gallery 1988


Hero Complex Gallery

JJ can be reached at jjwharrison@gmail.com