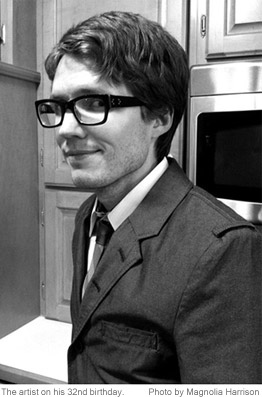 I live in the beautiful mountains of Utah with my wife, our 2 kids, and a golden fish named Jake–whom we're pretty sure is immortal. I believe in always being as polite as possible.
Education
I graduated summa cum laude from Utah Valley University with a bachelor's degree in Multimedia Communications. I loved every minute of my schooling.
Career
Professionally, I have a colorful past as a product developer, creative director, and PHP dork. I've worked on entertainment projects with Mondo, Cartoon Network, Marvel, NBC, IBM, and JC Penney.
Straight out of college, I started a company, BAM POP!, as a creative outlet for myself. We focus on manufacturing arts and crafts supplies for kids of all ages. Our home-grown "night job" business amazingly flourished into distribution in over 100 retail stores and boutiques in 15 countries.
Comics
Ever since I was little, one of my most heartfelt pursuits is to make comic books. In 2010, I started a webcomic, LOST in Comics, to help cultivate my drawing and writing skills. The comic satirizes the television show LOST and eventually caught the attention of ABC and Bad Robot, in a good way. I've been privileged to hobnob with many of the show's creators and cast and I got some nice write-ups on io9, Comics Alliance, and USAToday!
In Print
My patterns and character designs are featured in a number of craft and scrapbooking publications including Better Homes & Gardens, Scrapbooking and Beyond, Creating Keepsakes, Print & Pattern, and Design Sponge, as well as some notable design books:
Simply Pattern by Victionary
Buy it on Amazon ->

Print and Pattern by Bowie Stytle, Laurence King Publishers
Buy it on Amazon ->
Hire Me
I would be thrilled to make use of my illustration and digital media skills to work with you in bringing something new and wonderful into the world. I'm seeking freelance work with preference for all-ages comics projects, but I'm no snob. I will happily illustrate the cover of your kitty litter package. Meowmeowmeowmeow! =^.^=