"Penalty Box" Artist Edition Release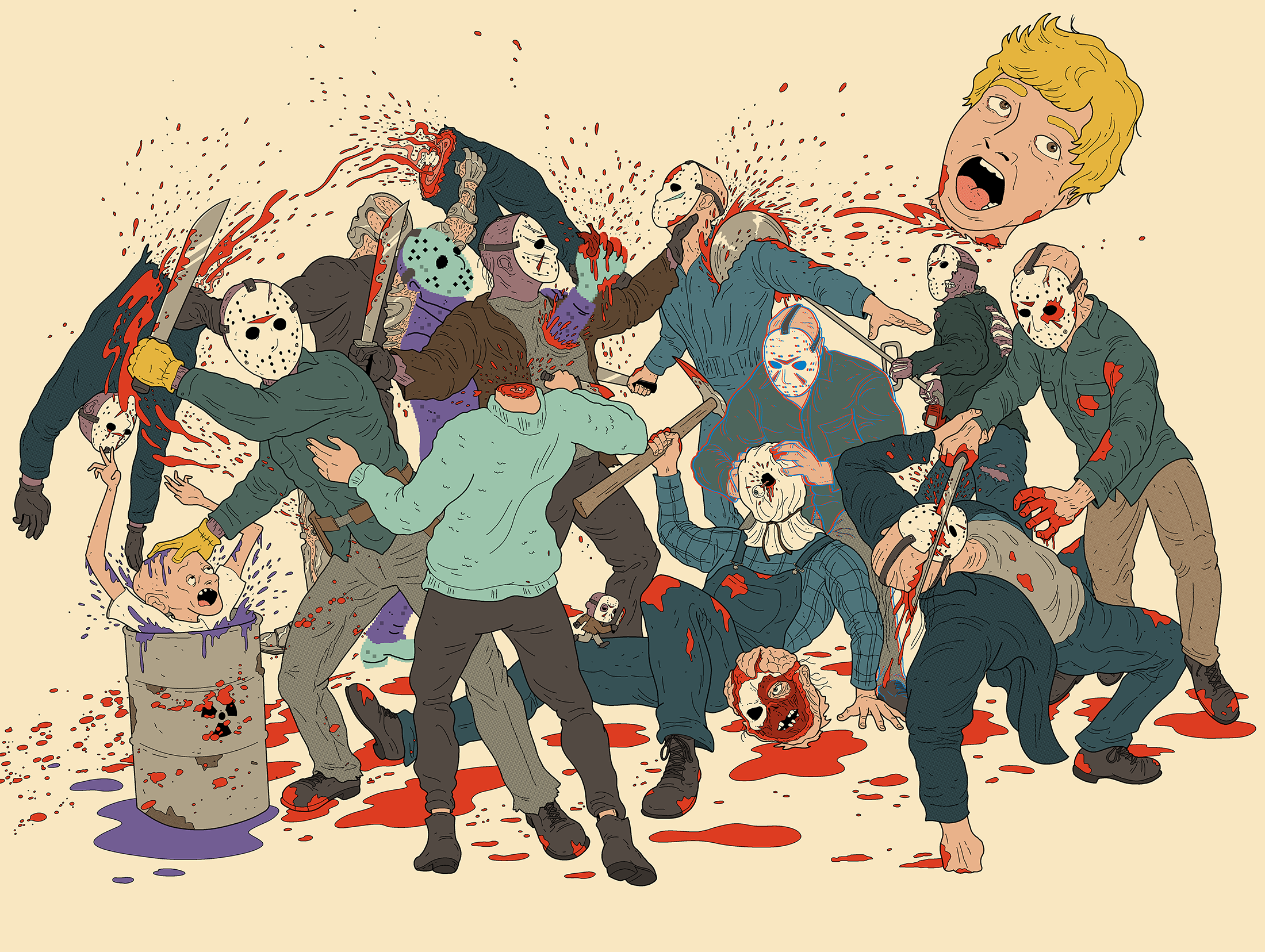 "Penalty Box" by JJ Harrison
24 x 18″ Screen Print, 13 Colors
Main Edition of 35 (SOLD OUT), Artist Edition of 15
AP Edition Sale on Friday at 12 Noon PST right here
Hello Jason fans! JJ Here. There has been some buzz for this print and that's exciting. I apologize that there aren't more to go around. This print is the third in the Self-Destruct series. I pour lots of love and thought into these to make 'em fun for casual and die hard fans alike. That said, let's talk about why you came here…
How do you get the poster?
Typically, I get my artist proofs and throw them up on my shop. People buy 'em, I ship 'em. This release is going to be a little different. See, I need your help with something and I'm going to use this poster to get it. Sorry. Don't worry, I don't need a kidney or anything. I share a studio with a couple of pals who are also comics pros, and we've created a funny little card game (think Cards Against Humanity or Exploding Kittens) that we'd like to get printed. So we're doing a Kickstarter and I'm donating my AP edition of this print to fund the game. We're not asking for much to get the game made and this print will actually get us most of the way there!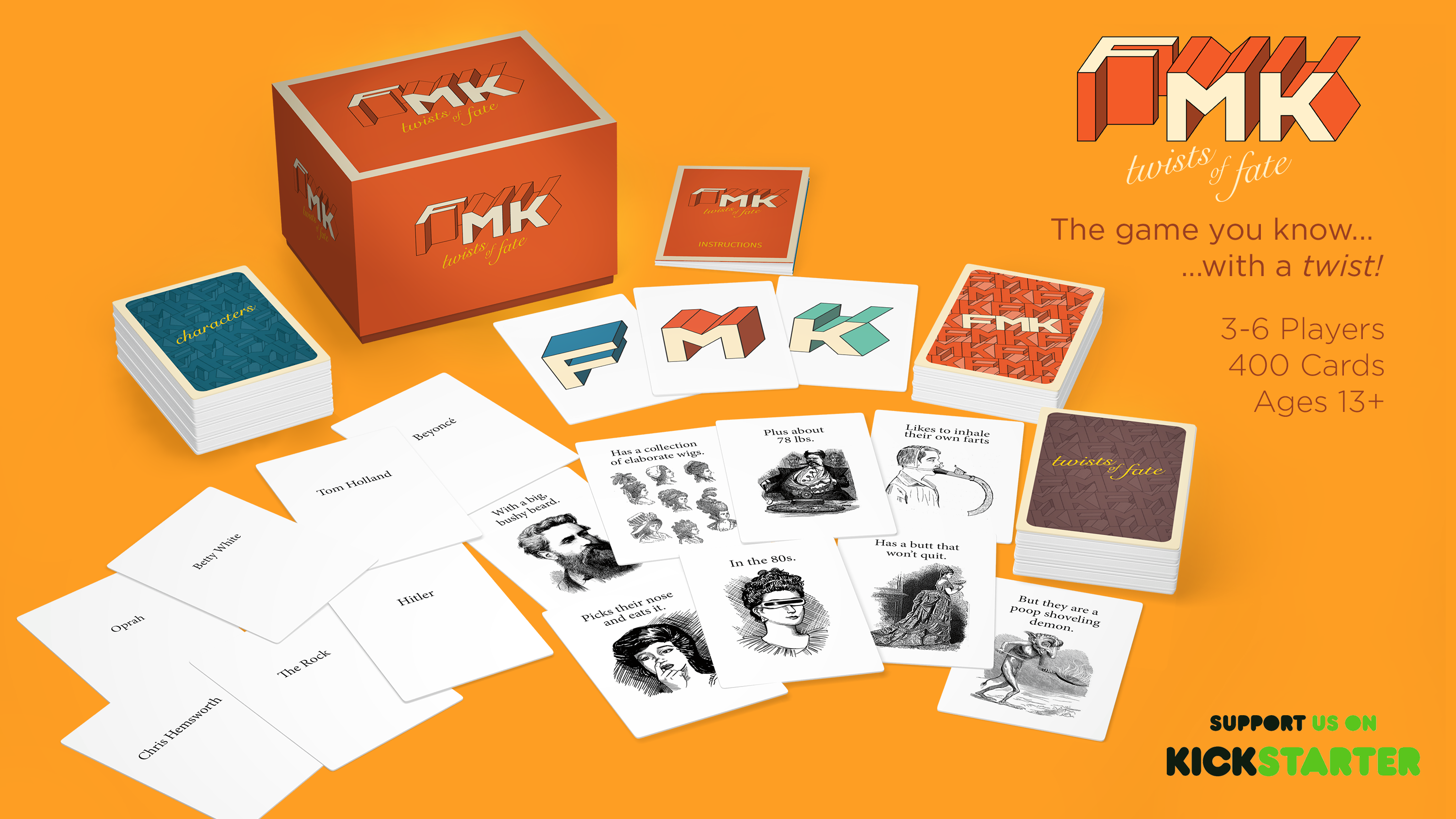 Here's where you come in. You'll be able to buy this print for about the same price I'd charge ya for the print alone, but you'll get a goofy little game and some other cool add-ons to sweeten the deal. If you don't want the game, that's cool, just give it to a friend.
So here's the deal: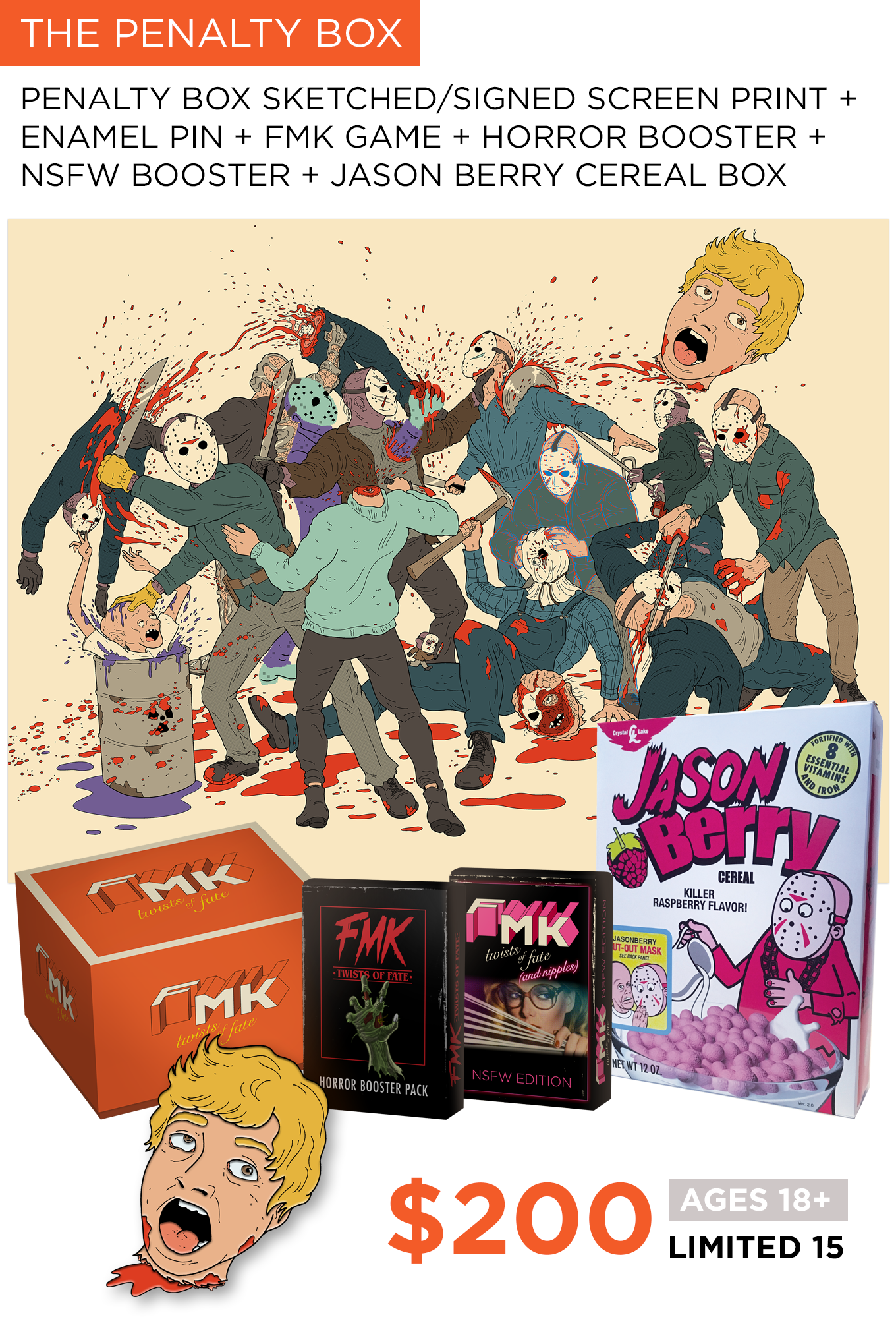 The Penalty Box Bundle includes:
"Penalty Box" Artist Edition Remarqued Screen Print signed by JJ with a color sketch, $175 value
"Penalty Box" Enamel Pin, $15 value
Jason Berry Cereal Box signed by designer and comic book artist Bill Galvan, $15 value
FMK: Twists of Fate Card Game, $20 value
FMK NSFW Booster Pack, $15 value
FMK Horror Booster Pack, $15 value
No really, how do you get one?
Easy. At noon PST on Friday, June 8, this page will update with a link to the Kickstarter on the image above. Come here, go there, back the project and your poster is secured! Coupla notes…Sure, the bundle includes a few things that will need to be printed and shipped this summer, but your poster will ship as soon as the Kickstarter is funded and your card is charged (30 days from June 8). In the (hopefully unlikely) event that the Kickstarter doesn't fund, don't fret your reservation for the poster is still secured. We'll adjust the price (lower) and I'll give you a personal checkout page so you can still get it.
See? Easy. I want to thank you in advance for helping support my art and dumb ideas. Thank you so much!